Some of our success stories…
Danielle Pyke
Danielle Pyke
Upon completion of RCLN's Transition to Employment program in 2010, Danielle Pyke's dream became a reality; she was accepted into the Continuing Care Program at NSCC Strait Area Campus. At that time Danielle was a married mother of two small school-aged children whose husband finally secured a full-time job in April, 2009. Up to that point in time, he worked in temporary positions, either locally or out west. Like most young families, finances were a struggle as it is so difficult to get ahead either on one pay cheque or even two when the jobs are temporary, low-paying or both; and childcare has to be factored into the budget. When her husband began a full-time position as a night maintenance operator working a 5:00 P.M. to 3:00 A.M. shift, childcare was no longer an insurmountable barrier, so Danielle decided to enter our Transition to Employment program.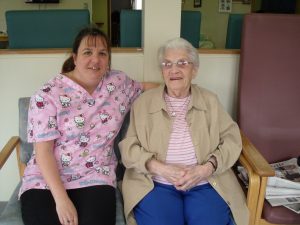 With her strong work ethic, positive attitude, and commitment to the program, Danielle was an ideal participant. Her interest in caring for the elderly led to a twenty-four week work placement at the Port Hawkesbury Nursing Home. Performance evaluations completed by supervisory staff indicated that Danielle was enthusiastic and eager to learn, got along well with the residents, and she received much positive feedback from the staff. Upon her acceptance into the CCA program, the Port Hawkesbury Nursing Home agreed to sponsor Danielle by covering the cost of her tuition with the agreement that she work for the Nursing Home upon graduation for a specified period of time. Through very hard work and determination Danielle successfully completed the CCA program and has been employed full-time at the Nursing Home since graduation. Her life and that of her family has been changed forever.

Brenda Lavandier
Brenda Lavandier

Continuing my education helped me get a job that I enjoy. Now I can work and learn new things each day, and give back to the community that helped me on my way."  ~ Brenda Lavandier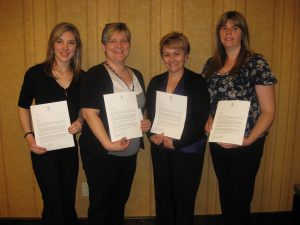 Brenda struggled with math in high school. "I was convinced I would never be able to learn it, and that gave me such a feeling of desperation that I eventually just quit school altogether." Becoming a mother motivated Brenda to return to learning. "When my children were born, I envisioned how great their lives could be, and that vision included them graduating from high school. But I realized that I couldn't expect my children to finish high school when I hadn't done it myself."
The adult learning program restored Brenda's faith in herself. "By improving my skills, I built my self-confidence, and that is without a doubt the most important thing I gained from adult learning. I went on to get my high school diploma, and then two university degrees. Today, I have a good job and a wonderful life ahead of me, all because I took that first step toward a better education: I returned to learning."
Brenda Lavandier hails from Arichat, Nova Scotia. Born and raised in a little Acadian fishing community, she has many fond memories of her early childhood. Most of all, Brenda remembers how much she looked up to her teachers and how she would often imagine she was a teacher. This memory would later fade to the back of her mind, though it was never really forgotten completely.
Brenda left school at 16, married at 21, and soon started a family. Having children made her realize the importance of completing the education she had abandoned so many years ago. Brenda acquired her GED after attending ALP classes at the Richmond County Literacy Network and then went on to take a Culinary Arts program at NSCC Strait Area Campus in 1991. Soon thereafter, Brenda enrolled in the Cosmetology program at NSCC, and graduated in 1993.
Not satisfied with either career choice, Brenda enrolled at St. Francis Xavier University in the Bachelor of Arts program and chose English as her Major. She commuted every day to Antigonish from home in Arichat, a round trip of over 200 km. Upon graduation from St. F. X in 2006, Brenda completed her Bachelor of Education from Memorial University (Cape Breton University Cohort) in 2008.
Returning to her educational roots, Brenda became an ALP instructor for the Richmond County Literacy Network – the very venue from which she got her start. In 2012, Brenda moved from the area and now works as an ALP instructor with the Adult Learning Association of Cape Breton County.
As a single parent, Brenda was able to support herself and her children as well as being a strong role model to her two young girls. Although it took Brenda many years to find her "niche" in life, she feels that it was well worth the challenges and barriers that she faced in order to arrive at what she believes is her destiny. As a person who has gone through the experience of leaving high school before graduation, Brenda has had to face many of the issues and difficulties that she sees her learners facing now. This is a circumstance that Brenda feels is an asset to her position of adult educator. As a result of her own past, Brenda has found that it is much easier to relate to her learners in some way or another because she is familiar with many of the issues that they may be facing. It is also important for her to be able to demonstrate from her own experience that it is never too late to do what you really want to in life, regardless of past mistakes, for mistakes can provide us great learning opportunities. Brenda has certainly been committed to lifelong learning and she continues to pass on this love of and commitment to learning.

Andrew Cogswell
Andrew Cogswell
For several years, Andrew Cogswell was forced to leave the province to secure employment in the fish processing industry. His hope was to secure a job locally so that he could spend more time with his family. So, in 2012 Andrew entered the Richmond County Literacy Network's Age Advantage Plus program where he benefitted from all aspects of the classroom component, especially the computer instruction and the job interviewing skills.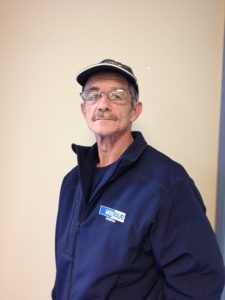 Andrew then completed a twelve week work placement with Winmar Cape Breton and was offered a full-time permanent position upon completion of this component. Given his strong work ethic and reliability, Andrew quickly progressed from an entry level position to a supervisory position – given the responsibility of a vehicle and crew.
According to Winmar Cape Breton management, hiring Andrew was a great decision for the company. As for Andrew's apprehension about computer training while taking the Age Advantage Plus program, he soon realized how important it was for both job searches and for keeping up-to-date in the workplace. When he finished the program and started working for Winmar Cape Breton, Andrew purchased his own computer.
Andrew is a testament of how the Age Advantage Plus program assists unemployed older workers gain the personal and employment skills necessary to successfully re-enter and fully participate in the modern workforce.

Susan McGrath
Susan McGrath
After dropping out of school in Grade 8 to become a full-time mother, Susan McGrath focused on being a good parent. She married the love of her life and they had three more children. Although Susan had the life that she always wanted, something was still left unfinished. It was her dream to finish high school and to be the first one in her family to graduate.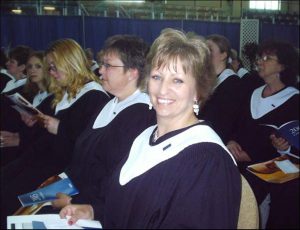 After 20 years of motherhood, Susan was scared to return to learning – scared of failure and how she would face her children if she did indeed fail. When anyone is out of school for any length of time going back is a big decision. With the support of her family and friends, Susan took the leap and enrolled in our CLI program while still being a full-time mom and working an almost full-time job.
Encouraged by the RCLN staff, Susan wrote her GED and, after waiting anxiously for weeks, in June of 2000, she received her results. Her dream had come true; she held in her hands proof that she had met her goal. Diploma in hand, Susan now had a whole new list of options. She went on to graduate from the Continuing Care program at the NSCC Strait Area Campus in 2005, receiving both the Student Leadership Award and the RCLN's Adult Learner Award. Susan is now employed full-time with the Richmond County Homemakers. With her salary, she was able to support the education of her children, an example of how one program success can impact multiple generations. The little baby girl whom she quit school for has now graduated from university and is a registered nurse. And the guy she fell crazy in love with at the age of 13 is still the love of her life after 30+ years of marriage.
Susan continues to be a strong advocate for literacy, sitting on our Board of Directors as the Adult Learner Representative and as the representative for her municipal district.